ty
Name: karura kruchi
Gender: Female
Age: 564
Element: gravity, pressure.
the gravity and pressure elements are from when she swings her sword or when she's attacking someone. just the aura around her is like Kempachi at full power. This is where the gravity and pressure elements come from. But also like Kempachi she has a sealing, the shackle around her neck.
Type: shingami
Place of Birth/Hometown: in a temple in the middle of chains high mountains.
Rank/Squad: if was in the ranks she be captain level.... she a rouge shingami.
Looks: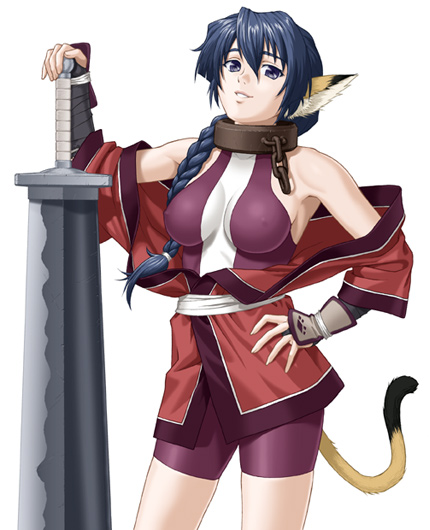 Personality: karura is a very care free person she loves to lay around an play with her tail an basking in the sun. shes also a heavy drinker an no mater how much she drinks she can never get compltly drunk on any sake. shes aslo super strong an dos not tire easy. she will make her enemys think shes geting tired an at the right moment strike she strikes with much force. shes also ver flirty an very kind whens she want to be. an when shes in heat she meow so much it can drive many people crazy.
History: karura was a born in a poor family when she was a human shes was a ungly child. she was picked on by the town bullys. she one day got fed up with them an fught back like she was a beast. she alwayed though of her self as a beautiful person. she beat most of the people up. over time when she grew up more she started to become beautiful. shes didnt get in as many fights bt she was hit on alot. she didnt mind it but she didnt like it eather. she died at a young age of 25 from a illness doctor in that time could not heal.
she wondered as a soul for a few days tell a soul reaper found her an sent her to ss. whiles she was there her spirit energy rised. but her looks had changed. shes had grew a tail an cat ears witch made her wonder wth was going on for a while. she was soon enrolled in to SS school. she failed the classes over an over. soon she started to get better. when she finaly got her zan she trained every day an night to atain shiki. when she did she was happy. one day she was fighting a hollow when she was about to release it the hollow broke the blade. but that didnt stop her from going shiki, when shes did she killed the hollow but her sword sould not go back to sealed state.
Name: kamyuki
Element: gravity/pressure (with gravity comes pressure)
Spirit:
Sealed Form: it was once a normal sword about 2 feet long
Shikai Command: was: smash kamyuki
Shikai: Released Zanpakuto Description: its unbreakeable unbendable an never needs to be sharpend. she is able to make bone breaking shock waves like a fan. that zan is so heavy is cracks the gound just seting it down gently so even blocking this zan you going to be knocked back a good few meters if not cut in half. an any one other then kaura trys picking it up wont be able to its so heavy.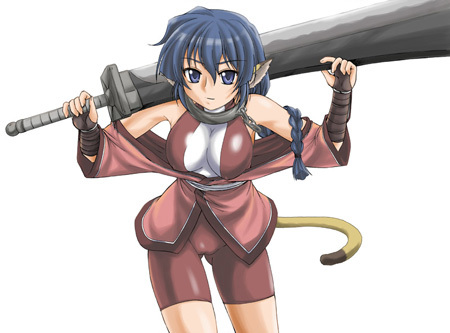 Bankai: just with her ears an tail....
Bankai Description: the ground crack around her as the sword weight triples. she is also now able to make a shock wave so stong it has crushing force to it. an her swinging speed well just watch out she faster then most would think she is. still blocking this would shartter bones just form the kenetic shockwave an also her strength. this sword can brake other zanpatous in this state easy if she swings hard enough only if they are in shiki or lower. she now also has a huge resitance to kido like attacks. she also strong enough to block a sword simmiler to arrancar steelskin ability.the swords power is gravity so she uses it to make it a little lighter to her so when she is swinging it an makes the graivty return on contact to give it a full effect of pure brutal gravitational effect an speed.... image a kick from tsuande at its max an that be the sword when its light to her.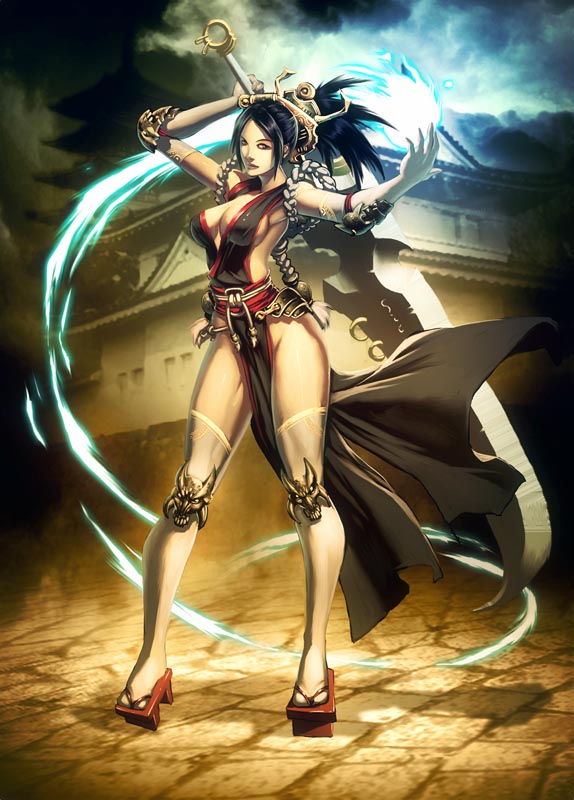 History: well i belive i bescirbed on how she gets shiki in her history. so her bankai... well like any normal shingami. she trained her ass off for years in order to get it.